"She has fire in her soul and grace in her heart"
There is something perfectly irresistible about a woman who can look at any situation with true love and compassion in her heart.
My perspectives have evolved since having a baby girl, I want every memory she will have to be positive and full of love. And it is 100% my job to ensure she will have the BEST childhood ever, and to do that for her I will always need to exude love and light.
Ayla will look to me as her first role model, I want to teach her to express love and light to everyone, just as I want everyone to show her love and light.
I want to express unconditional love to my girl everyday and let her know that no matter what, our love and our bond is unbreakable. I hope to teach her to approach every person and every situation with love in her heart. 
And hopefully she will be a fulfilled, happy and bright little girl! 
Sometimes having a token to remind us to "love" is paramount to our success. And don't get me wrong, it's not going to always be easy...(especially when you don't always see eye to eye with your daughter's father ;)
So, I present to you this weeks Friday Find! 
Two Piece Heart Bar Necklace and Cut-out Pendant for only $20!
This beautiful and dainty TWO PIECE bar necklace features a heart cutout design. A twist on the typical bar necklace, complimented with a perfectly matching heart cut-out. A feminine and unique necklace set with a brushed metal finish!
This necklace set is ideal for an every day accessory making it complimentary to any outfit!
Layer, mix & match OR share the heart with a girlfriend or loved one! My daughter will be rocking the small heart cut out (when she is old enough) but for now, I'll be layering!
SPECS:

♥ Necklace is approximately 17" long
♥ Bar pendant is approximately 1" wide
♥ Available in silver and gold!
♥ Lobster clasp closure
♥ Delicate, feminine and minimalist design falls beautifully around the collarbone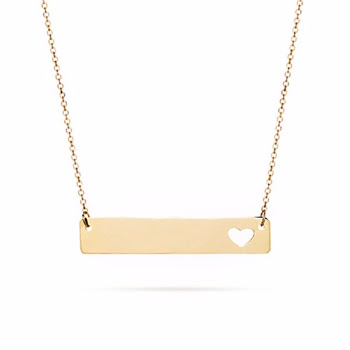 So what are ya waiting for? Head over to Kalyn's Finds store and start showing the loooooove ! :)
Until next week,
Xoxo
~ Kalyn
Hit "reply" to this email or get in touch on Facebook. We'd love to hear from ya!